This coming winter may just be our best winter yet! There are many benefits to hiring a professional fishing guide when fishing for Walleye during the winter. Not only can you learn all the tips and tricks for catching Walleye, but your fishing guide can show you all of their best spots to catch Walleye!  Read on:
We've Upgraded Our Equipment
Not only is this predicted to be a great year to plan a trip with a Walleye fishing guide on Saginaw Bay, but we have also made some upgrades on our end to make your trips on the Bay even better! We added tracks to my Ranger and  we are now able to take out 6 guests out on the ice at a time! Now our guided ice fishing tours can accommodate groups up to six people. This makes our fishing trips a great option for a birthday group, bachelor party, or a family day trip. With the new and improved tracks, our Ranger also has better control and mobility while out on the ice. There are just a few things for you to bring when fishing with a Walleye fishing guide, and we will do the rest!
Hire a Professional Walleye Fishing Guide
To experience Walleye fishing in Saginaw Bay to the fullest, you should hire a professional fishing guide. You will not only have the best fishing experience but an educational experience as well. In North America, Walleye is the largest member of the Perch family, yes Perch. Most of the year they hang out in deeper waters where it makes it difficult to track them. Moreover, they are attracted to rough terrain; with boulders, rocky/gravel areas, drop off edges. A professional Walleye fishing guide on Saginaw Bay has the knowledge and knows how to pick the right spots!
More than Walleye is on the hook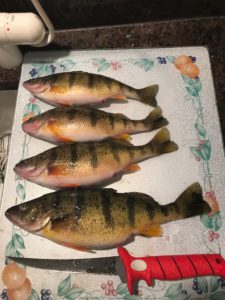 Yes, we specialize in Walleye, but there a number of fish species in Saginaw Bay and River that make for great sport (and eating). Fishing and catching a variety of different fish like Brown Trout can be rewarding as well. Jumbo Perch is a great game fish as well. It's easy to clean and great to eat. We know all the spots that will keep you reeling!
We offer full day affordable pricing plans. Full day guided fishing trips will take you to Saginaw Bay and back, or depending on ice conditions it will allow you to fish the Saginaw River. Prices will vary depending on the length of your trip, the number of guests, as well as the equipment you wish for us to provide. To set us apart from many other fishing charters in Michigan, there is no minimum guest requirement as we will take as low as 1 person. We offer tag-a-long fishing trips where you MUST have your own, APPROVED ride out, as well as the single person guided fishing excursion on Saginaw Bay. If you wish to do tag-a-long plan plz call. Check out more of our fishing experiences on our facebook page.
Schedule a Walleye fishing guide on Saginaw Bay now by calling Brian at  231-557-2755