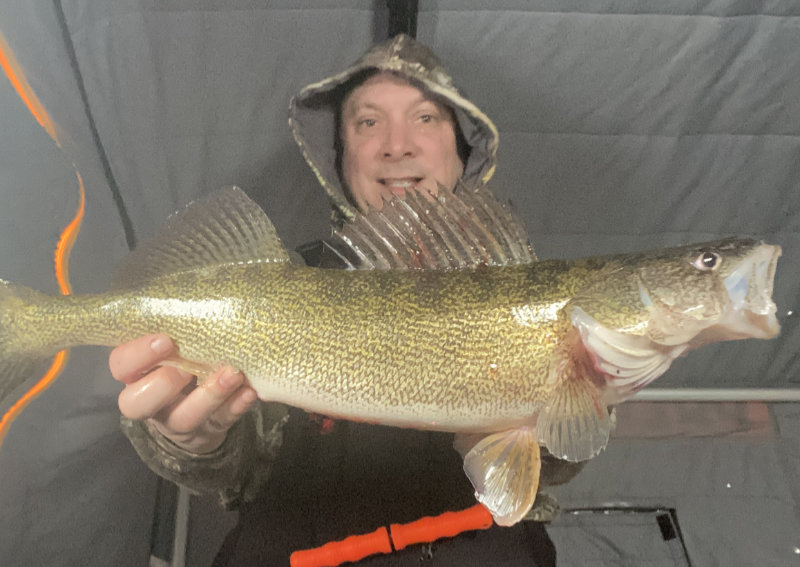 When it comes to Saginaw Bay or the Saginaw River, the best way to catch large Walleye is to book a trip with the Walleye King! 
We are now offering guided walleye jigging trips on the Saginaw River!  You will enjoy a brand new Warrior boat, while your guide takes you to the best locations on the river. Jig fishing for Walleye on the Saginaw River with us will present you with the best opportunity to catch more Walleye than you ever have!
The Saginaw River is open year-round now. In addition, during the month of March Walleye pour into the river in record numbers. This provides you with a huge success rate to catch a ton of Walleye. Visit our Pricing page now to book a fishing guide for Walleye jigging on the Saginaw River.
Walleye Jigging
For Walleye, jigging is a great technique for catching the fish in deep or shallow waters. Even in deep colder water, jigging can cause a reaction even in more lethargic fish. There are some different types of techniques people use while Walleye fishing.  One is bottom hopping. This technique requires you to let the jig go all the way to the bottom of the river or lake. Next, you lift the rod to move the jig up and down off the bottom.
The second technique is what they call dragging. This is used for a break or near the bottom. You place the boat perpendicular and drag the jig with leeches or nightcrawlers. Also, make sure to practice and experiment with the placement.  The third technique is vertical jigging. Find a hot sport of Walleye, try to place your boat over the spot while dropping the jig vertical over the area. Be sure to mark the area to help with placement.
The fourth technique is swimming. It is best to use swimming early in the year. Simply cast your jig and steadily swim the jig across the water simulating a swimming motion. The fifth technique is drifting. When it comes to a river like the Saginaw river, this technique works best. Cast a long line and drag the jig across the bottom of the river. Of course, these are just some of the techniques you can use.
Saginaw River Walleye Fishing Pricing
The Saginaw River is a great source for large, beautiful Walleye. By booking with the Walleye King, you will be taken to the most Walleye rich section of the river. Trips are $195 for one person, $300 for two people, $450 for three people.    Trips are generally around 4-5 hours or so.
Also there are NO fish cleaning stations open during this time of year so you will have to take your fish home and clean them there so please bring a 5 gallon bucket or cooler to take your fish home in.