At Walleye King LLC, we now offer Cisco Fishing Trips.  Our fishing guide will take you to the best spots in Grand Traverse Bay.  During your guided fishing trip, we will jig and cast which is much more preferred over trolling. Also, our guided trips start in May and run through the first week or so of June and then pick back up in the fall at end of September and into October.  In addition to cisco, you may also catch Lake Trout and other fish as well.
Cisco Fishing Traverse City Guide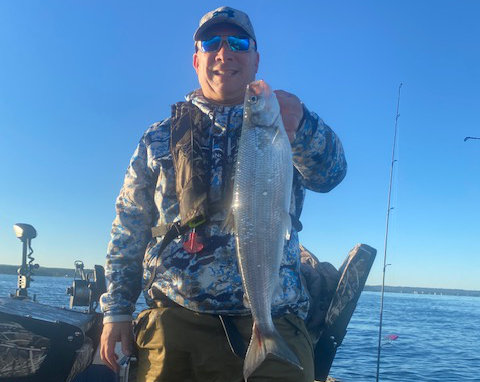 Cisco fish are some of the best-tasting fish around. Also known as Lake Herring, Cisco fish is a very popular fish in the Traverse City area. The prime time of the year to fish for them is in April and May, but you can get catch them throughout the year. There are ways to tell the difference between a Cisco, Lake Whitefish, and a Mooneye. Lake Whitefish are usually larger than Cisco. The Mooneye are known to have rather large eyes.
When it comes to jig and casting, our expert guides can help you determine the right equipment. Also, they can help you improve your technique to maximize your fishing. When it comes to Grand Traverse Bay or Grand Traverse East Bay, our guides know the best spots to fish. Whether you are looking for a Salmon Guide or just a Traverse City Fishing Guide, we are the ones to turn to.
Michigan DNR Cisco Limits
When it comes to the DNR limits on fish, there is a 10 fish limit. That is 10 fish of any round whitefish. The fishing season runs from May to December 31st for Bass. Cisco and Lake Whitefish are open the entire year. Lake Trout Season Goes from January 1 to September 30th and the limit is 2 per person in Grand Traverse Bay.   If you are 17 years of age and older, you are required to purchase a fishing license.
Cisco Fishing Pricing
$250 For 1 Person For 4 Hour Trip
$400 For 2 People For a 4 Hour Trip
$500 For 3 people for a 4 Hour Trip
---