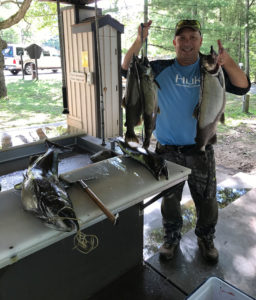 Are you planning to fish the Platte River for Coho Salmon? Check the latest Platte River fishing reports to get water conditions like; temperature, clarity, and visibility.
Most of that information, however, doesn't catch the essence of it. The Platte River river really doesn't fluctuate as most rivers do.  It is a shallow, slow-moving lazy river like ripples you see looking in a pool.  The ideal times are just before light and just after.  That is why our tours typically start at 5 am and run until around 9 am. The weather doesn't matter much. It can be hot and bright blue skies, to rainy or overcast, we will fill our quota of Coho. 
"A fresh rain in early September always helps to move new fish up the river though."
Fish species present in the river include Coho Salmon, Steelhead, and Trout. The fishing season for these fish is year-round but the Coho salmon runs and our guided fishing tours for the Platte River start in late August. They run through September and because it's the end of summer/start of fall, it can be hot t-shirt weather to cold crisp mornings. There is nothing like it when that morning fog is hanging just above the water like steam which makes it just beautiful!
Before you go!
There are some rules and regulations when it comes to fishing in any state. Anyone over the age of 17 in the state of Michigan is required to have a fishing license to fish. The price is about $26 for resident and $76 for nonresident, you can get a 24-hour license for $10 for residents and a 72-hour license for $30.
Also, you can research the best baiting tips for the Coho Salmon in the Platte River, however, we will make sure you have what you need. We fish in the best stretch of water. This is the only open section below the lowest weir. Check the fishing restrictions and other regulations placed by the DNR. 
Contact For Fishing Tours in Michigan
For more information on fishing in the Platte River, feel free to call us at 231-557-2755. We offer guided tours that will give you the best experience fishing for Coho Salmon. Be sure to check out our Salmon fishing tours page for more information, then get pricing and schedule your tour now! Have fun fishing out there on the Platte River!