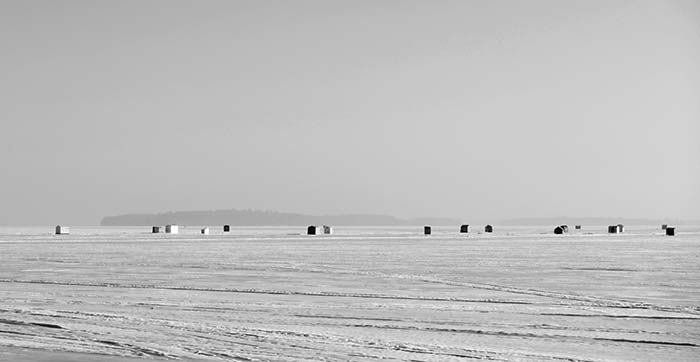 As Michigan eases into fall, that means winter is right around the corner. A great hobby or activity that a lot of Michigan fisherman enjoy is ice fishing. Ice fishing is a great way to get outdoors and enjoy the winter months. It is a great experience being out in the fresh air in natural surroundings and enjoying the beauty of the outdoors.
From seasoned ice fisherman to beginners, there is something for everyone to enjoy. Of course if you are going to go ice fishing we suggest some items you may want to consider to bring with you such as:
Warm Boots
Warm Gloves
Warm Socks
Warm Jacket
These are just a few items to consider, visit out what to bring page for a more detailed look at things you should bring when ice fishing.  Of course for the more serious fisherman, you may want to consider a shelter such as a shanty or tent, especially if you plan on fishing for long periods of time. With or without all the gear and equipment as seasoned ice fishing guides we will make sure you have everything you need.
Saginaw Bay, Michigan's Best Ice Fishing Spot
Once you have determined you are going to go ice fishing, you will need to research the best places to fish. One of the best places in Michigan to ice fish hands down, is Saginaw Bay! From the time the bay freezes to the spring when it starts melting, Saginaw Bay is the premiere place to ice fish and thousands of fisherman visit it every year.
Saginaw Bay is a large place, and to find the best spots for ice fishing that will produce the most fish, is where the Walleye King comes in. The Walleye King has been fishing Saginaw Bay for years and knows exactly where all the great spots are for fishing. So why would you need a ice fishing guide in Saginaw Bay? Because Walleye king can not only show you where the great spots are, but if you book a guided fishing trip, we can provide you with gear and transportation to the best spots.
At Walleye King our guided ice fishing trips on Saginaw Bay is the best way to experience ice fishing, from the beginner to the expert, all levels of fisherman benefit from Walleye Kings guided ice fishing on Saginaw Bay!