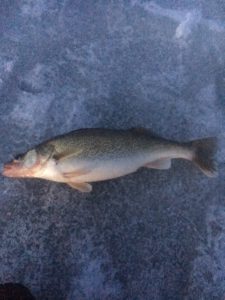 River fishing can be a great way to catch some fish. When it comes to salmon or walleye fishing your best option is using the Walleye King. When it comes to the Saginaw River or the Platte river there is not a better guide than the Walleye King.
The walleye king knows all the hot spots across the Platte river that will produce the largest coho salmon.  A salmon fishing trip is about 6 hours long and the fishing times are from 5:30 am to 11:30 am. Also, the salmon season is at its peak on the Platte river from August to the end of September. If you would like to learn more about salmon river fishing trips please click here.
River Fishing and Walleye Jigging
Another popular form of fishing on a river is jigging. Jigging is a great fishing method that will work in deep and shallow waters. In addition, there are a few different techniques you can use while jigging. Techniques such as dragging, swimming, vertical figging, and bottom hoping.
The Walleye King offers guided walleye fishing tours on the Saginaw River. The season for walleye on the Saginaw River is now year round.  Boat trips are about 4-5 hours each. Prices are $195 for one, or $300 for two, and $450 for three.
Of course, there are other ways to fish for walleye besides on a river. Here at the Walleye King, we offer guided fishing trips for ice fishing, river fishing, and all types of fishing. With decades of fishing experience on the Platte River, the Saginaw River, and the Saginaw Bay, the Walleye King can find you the best fish at the best spots. Finally, if you would like to book a trip please call today at 231-557-2755 or email at [email protected].