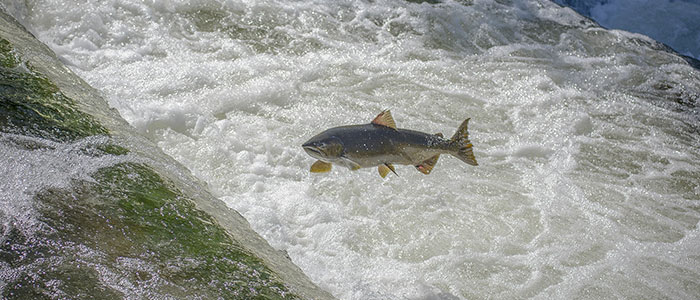 Walleye King is one of the premiere coho salmon fishing guides in Michigan. Coho Salmon, also known as silver salmon, is a game fish that can be caught in fresh and salt water. There are several coho salmon fishing hatcheries throughout the country. One such hatchery is located on the Platte River in Michigan. Because of this hatchery, it makes the Platte River an excellent source of coho salmon.
Coho Salmon Fishing Guides Walleye King
The Walleye King can help you find the best coho fishing Platte River spots to produce the best fishing around. With decades of experience fishing the Platte River, the Walleye King kind find you the hot spots only he knows about. From spring to the fall, the Walleye King can take you to the best areas of the river. In addition to the hot spots, the Walleye King can help you determine the best bait and time to fish.
In Michigan, salmon fishing Platte River is the best choice for large delicious coho salmon fishing. When it comes to salmon, coho salmon is one of the better fish to eat. Coho tends to be a little smaller which means they eat less meaning they do not consume as many polychlorinated biphenyls (PCBs).  Why should you care about PCBs? PCBs are known to cause cancer and when it comes to farm or wild coho Mercury is not an issue either.
Platte River Coho Salmon
Smoked or baked, coho salmon makes a great meal for the whole family. The Platte River is a great destination for coho salmon. Located in the Sleeping Bear Dunes National Lakeshore, the river runs 30 miles to its outlet in Lake Dubonnet. The guided coho salmon guided fishing usually consists of one or two people and lasts about 5 hours. Also, on our guided tour we provide a boat that will take you to the best locations.
Finally, give us a call at 231-557-2755 and make sure to visit our pricing page. Once you experience the best coho salmon fishing guide in Michigan, you will want to go time and time again!