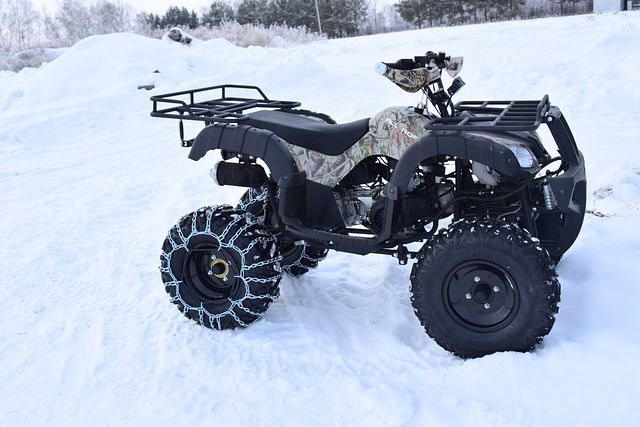 Walleye King has ATV rentals for ice fishing. We know that Saginaw Bay offer's the best location for ice fishing. However, to find the best fish, you need to go out on the ice. That is why many people use ATVs to traverse the ice and get their equipment to the ideal fishing hole. Without a doubt, Quads are the best vehicle to use on your frozen lake excursion, and the Walleye King has the best vehicle for that! There are some very good reasons to rent our ATV for your ice fishing trips, and good reason's to ask us questions about it! Here are a few:
Ice Thickness
One of the most important things to consider is ice thickness. Ice is dangerous, which is why it's important to know how dense it is before stepping on it. In order to even stand on the ice, it needs to be at least 4 inches. Any less and you will fall through. However, there is still a limit to the weight. ATVs on ice obviously would be more than standing, even though the weight dispersal is greater.
If someone wants to drive their car on the ice, they would have to wait until the ice is 8 inches. But an ATV or snowmobile can safely travel on ice with a thickness level of 5 to 7 inches. This makes the ATV the safer option on the ice because it weighs less than some other vehicles you see from time to time.
Storage Capabilities for Equipment
Unlike regular fishing, setting up ice fishing can be a task. On a normal summer day, you can just go to the water edge and cast off. However, that is not the case with ice fishing. In addition to all of the fishing supplies, you need all of your winter gear and ice-cutting tools. As a result, it takes a lot of time to move these tools to your prime spot for fishing. An ATV allows you to securely fasten these items and move them with little hassle.
Easy Moving and Quick Escape
In addition to having storage for all your items, it makes picking up and moving faster and easier. Not to mention, a quick escape if the weather changes rapidly as it tends to do on the lake.
Saginaw Bay ATV Rental
If you are looking to use an ATV rental for ice fishing on Saginaw Bay then you have come to the right place! The Walleye King offers ATV rentals with a modified tag-along plan! People who rent our ATVs have the independence to ride and set up themselves while on one of our guided tours. Ride in style and safety with the Walleye King!  Please see the modified tag along pricing on the pricing page.